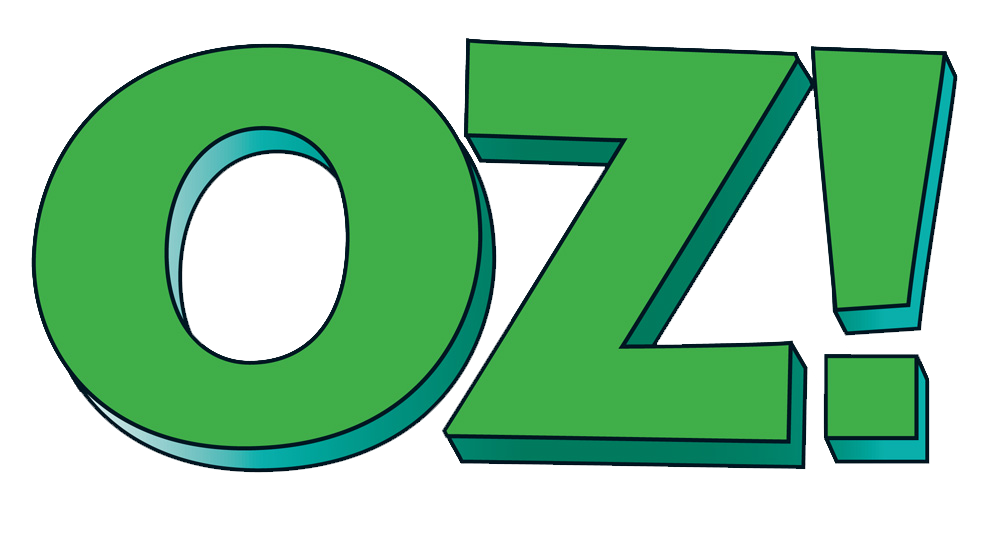 Thinking about auditioning but on the fence or concerned you won't be prepared? That's fine! We'll have lyrics and monologues available to read. If you want to try auditioning before signing up, walk in any time! Sat. 2-5pm, Sun. 4:30-7:30pm
This Spring, the performing arts class will be producing a superb adaptation of OZ! by Pioneer Drama that captures all the magic and charm of everyone's favorite story.
Auditions will be held for students from 5th-12th grade on January 23th (Thursday), 25th (Saturday), and 26th (Sunday) at Jackson Church (68 Bennetts Mills Rd., Jackson, NJ 08527). Everyone is welcome to participate, and everyone who auditions will get a part, although we are limited to 50 students, so please sign-up quickly.
Class and Important Parent Info
Rehearsals will be on Thursdays 5:30-7:30pm and Sundays 3-6pm. You will receive a more detailed rehearsal schedule once the show is cast, everyone will not need to be at every rehearsal.
There will be a parent meeting on Feb. 1 at 4:00pm.
We understand that due to prior commitments, students may not be available for all rehearsals. We still encourage these students to audition for the musical and would love to have them part of the program! Please indicate any conflicts you have on your registration. Casting may be dependent on the actor's scheduling availability. If you are unable to make a practice, just let us know as soon as you are able to. If you miss more than three practices without letting us know, your part may need to be re-cast.
Audition Information
What are we looking for in auditions? We're mainly looking at how prepared you are as well as singing/acting/dancing ability. We definitely prefer that you've memorized the words to your monologue and song.
To sign-up and audition:
1. Sign up for the performing arts class
You can sign up for the class and choose an audition time here: Performing Arts Class. Auditions will be held in 10-minute blocks. Please arrive about 5-10 minutes early so that we can start right away!
2. Prepare a monologue
3. Optional: Prepare a song!
Listed below are suggested songs for auditions. Students are encouraged to prepare a song, however they may opt-out to be considered for a non-singing part. If you would like to use one of these songs you can choose to sing it a cappella (without music) or use the karaoke track. Each song listed has a link to the karaoke track that will be provided at auditions. If there is a song not listed below that you would like to sing a cappella at the auditions you may do so. Karaoke tracks can only be used with the songs listed below; we'll only be providing the music, so please make sure you know the lyrics or bring them along!
4. Optional: Come to dance auditions
Dance auditions will be held on Sunday, Jan. 26th at 3pm. The dance audition is optional, but recommended for anyone who is trying out for a lead, ensemble member, or lead dancer. During the hour, students will learn 24 counts of a dance. After rehearsing the dance, they will then split into groups and perform the dance they have learned. Sign-ups are not required for this portion of the audition process.
5. Have fun!
Remember, everyone who signs up will get a spot in the musical and regardless of your part, this will be a blast! You will meet new friends and have a great time rehearsing! Auditions are just for us to match your part with the type of talent you have.
Part Breakdown
Here is a list of parts that are available for the musical. We are looking to have a larger and more active ensemble this year. If you are looking to audition for Dorothy, please note the amount of lines that Dorothy has. For reference, Wendy only had 119 lines and Peter had 86 in our previous musical, "Peter Pan".
| Character | # of Lines |
| --- | --- |
| Dorothy | 250 |
| Toto | 3 |
| BOQ (munchkin) | 8 |
| LOQ (munchkin) | 5 |
| TOQ (munchkin) | 4 |
| Glinda the Good Witch | 29 |
| Wicked Witch | 54 |
| Scarecrow | 112 |
| Tin Woodsman | 95 |
| Cowardly Lion | 122 |
| China Princess | 14 |
| Guardian of the Gates One | 22 |
| Guardian of the Gates Two | 16 |
| Oz | 50 |
| Winged Monkey One | 9 |
| Winged Monkey Two | 7 |
| Aunt Em | 4 |
| Poppies | n/a |
| Fighting Trees | n/a |
| Ensemble (munchkins, monkeys, court citizens, etc.) | n/a |